Stylish and modern lighting pole designed for outdoor lighting successfully installed at a farm house in Islamabad.
Made of angled aluminium profile. There is a high efficiency LED light source on it. Special strip light is installed at both sides of the pole. It has a long service life.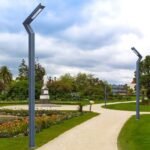 Specifications:
•Height: 3M
•Material:Aluminum+PMMA
•Lamp Body Size: 130*85*2.0mm
•Led module: 30W, 3000K with both side led strips •Voltage:85-265v
•Color: grey
•IP Rate:IP65
•Including the anchor bolt
For order click on the link below:
For more details contact us directly at WhatsApp 03439227883.