SPI RGB led pixel strip has been used at a private party room project in Karachi. Total of 200m strip are controlled through 8 ports artnet controller. Led pixel mapping is done through madrix.
At the counter, shelves and at ceiling led pixels strip has been used in silicon tube while on the opposite side wall  infinity mirrors having led pixel strips has been installed.
Light Type
Digita RGB 5050 pixel rgb led strip 60leds/m 20pixels/m ws2811

LED power
led power supply outout Dc12V-24V 100/200/400watt
The led stip is control by AS_832M Artnet Controller.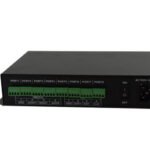 (1) . AS_832M Artnet Controller total 8ports
(2) SPI each prort 4universes*170pixels/U=680Pixels,8ports*680Pixels=Maximum 5440 pixels RGB (for example WS2812).
(3) DMX512, each prort 1univers*170pixels/U=170Pixels,8ports*170Pixels=Maximum 1360 pixels RGB (for example UCS512).
(4). Support ArtNet protocol, 4 universes each output when AS_832M works with Madrix/Madmapper/Resolume
(5). Controlled by AS_SDMX SD master controller or PC Software VideoLEDShow. (6). Transmission distance between two controllers is up to 100 meters.
Software
There is madrix USB dongle to drive madrix software 5.5 version, provided by the madrix agent has been used for pixel mapping.
Newon proudly designed, installed and programmed this project.
Find good quality programmable led lights and controllers with newon.
In case of any queries regarding lighting products and designing and installation services contact us directly at WhatsApp 03439227883.