Newon Electrical and Lighting installation services In Pakistan!
Are you in need of reliable support for Electrical & Lighting Installation in Pakistan? Then you have come to the Right Store. We provide quality services to design, build, maintain, electrical and lighting systems. Our team is well capable of installing and maintaining all types of electrical equipment including but not limited to panel boards, breakers, switches, fuses, contactors, exit lights, emergency lights, air compressors, lights, fans, motors, smoke detectors, signs, and heaters. Our experienced team can build out your space to fit your needs.
Lighting Installation
Lighting installation: Our team is well capable of installing and maintaining all types lighting products. Our experienced team of electricians offer reliable lighting installation services for both homes and commercial spaces. We can help you design a specific lighting layout that is customized to meet the requirements of your home. After the design process is complete, we can happily install it for you, too. We're happy to provide you with any kind of outdoor and indoor lighting installation you need, such as:
1- Recessed Lighting
2- Chandelier Hanging
3- Motion Lighting
4- Floodlights
5- Dimmers
6- Strip Lights
7- LED Lights
8- Under-Cabinet Lighting
9- Security Lighting
10- Exterior Accent Lighting
11- Floodlighting
12- Post Lights
13- Motion Lighting
14- Garden Lighting
15- Porch LightsIf you're looking for a simple electrical lighting repair or replacement, we can provide you with those installation services as well.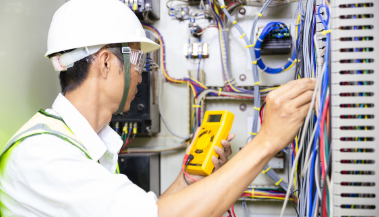 Electrical equipment installation
From installation of a ceiling fan to commercial wiring – our skilled technicians can do it all and with pure satisfaction. Our services include but are not limited to: Installation of fans with/without wiring Electrical switches wiring/rewiring Changing of switch breaker Electrical panels Exterior lighting Electrical motors installation/repair/maintenance Generator installation/repair/maintenance Wiring of new home and office. If it relates to power distribution and electricity, we can fix it! We take pride in what we do, and the quality work we perform. Contact us to discuss your equipment and power systems maintenance and reliability needs!
Repairing/Maintenance Services
If you are looking to update your home/commercial space appliances and aren't sure if the electrical system can handle the upgrades? Just give us a call and we are here to inspect your electrical system, perform repairs, or install appliances. Different type of repair and maintenance services which we provide;
1- lights repair and maintenance, 2) Rating and checking the entire electrical system
3- Emergency repair work
4- Upgrading your current system