A jacuzzi room is all about creating a dedicated relaxing experience, so to limit distractions, ambient lighting is the best choice.
Lighting should be subtle and entertaining at the same time in order to make the room look and feel like a legitimate party area.
The lighting we used here are rgb led strip lights in infinity mirror, shelves, and under the stairs and  warm strip lights used under the rock skin.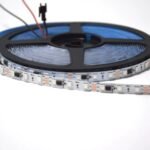 Skin rock sheets backlit by warm led strips has been used at wall and ceiling to make an impressive design statement.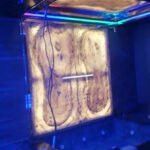 Infinity mirror installation done at one wall adding an optical illusion to the environment. More drama has been added to it by using the artnet controller and madrix software. With unique pixel mapping it takes the project to next level.
Fibre optic lighting used in ceiling is creating a starry effect under the roof.

Everything we create, we believe in redesigning your definition of art. A design not only to enjoy but also to live for! You can contact us directly at WhatsApp 0092-343-9227883.