Mostly we have poor lighting in staircase or some lights installed which need to be turn on/off from the button physically. In order we to save energy and to do some fun lighting we introduced the led staircase induction lighting which is well cherished by our customers. Here is one feedback video.
Stair lights cascade on upwards when one walks up the stairs, and downwards when one walks down. The lights would also cascade off in the same direction after being lit up for a set amount of time. A cooldown delay would be implemented to prevent triggering the lights in the opposite direction if you're slightly too slow going up/down the stairs – essentially some extra buffer time.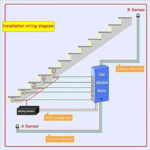 Under each step on  staircase, a strip of LEDs is mounted which is connected to induction controller. The controller controls each LED strip individually via one of 32 channels, though all of the strips share power. The controller detects people using a pair of  sensors — one at the top of the stairs and the other at the bottom.
Newon is an online lighting store in PAKISTAN, which not only provide quality lighting products with an unparalleled level of quality. We makes it easy for contractors, designers and wholesalers to realize their visions and help to provide solution which produces aesthetically beautiful effects and technical excellence.
You can contact us directly at WhatsApp 03439227883 or email us at info@newon.pk.