For this private party room project, we were responsible for not only for the lighting design but also for the design of the interior. We were commissioned by the managing partner to create a futuristic design that would create a great atmosphere for the guests and our client to relax.
The main lights are addressable led strip lights. All the room is packed with led strips embedded in the walls and ceiling, and gives  a truly immersive
lighting experience.  The lights synced nicely to music to show how the club may use these lights for all sorts of events and songs, and there is no shortage of options.                
Other lights used are fibre optic  lights installed in ceiling and in bar counter. Above the ceiling acrylic sheets are installed to give it a glossy look.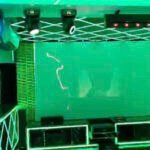 Six number of led beam and one eight eye laser light is also  added in                                                      order to add more drama to the environment.
The control system we opted to go with for this project was Art-Net 8CH 8 Channel Output Programmable SPI Pixel Digital ONLINE LED Controller and led music controller. The led edit  Software runs on its own dedicated computer from which the client has the option to use the touch screen and select presets or they can use a mobile, tablet-sized device which has an onboard app which can be used to trigger presets as well. This allows for very easy control of the system to choose from simple scenes with solid colors to more dynamic, pixel-mapped effects.
Newon is an online lighting store in PAKISTAN, which not only provide quality lighting products with an unparalleled level of quality. We makes it easy for contractors, designers and wholesalers to realize their visions and help to provide solution which produces aesthetically beautiful effects and technical excellence.
You can contact us directly at WhatsApp 03439227883 or email us at info@newon.pk.