La Terrazza is rooftop restaurant located at Centauras Islamabad. What we love are the string lights installed at the outdoor dining area adding a romantic vibe to the environment. These streamlined strand of string lights draped over the table not only look effortless but also keep the area looking nice and clea
You can enjoy your dine out sitting under the string lights while watching the sunset into the breathtaking Margalla hills on these hot summer's night.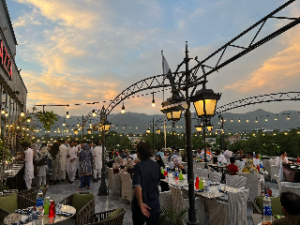 If you own a resturant or bar that has an outdoor seating area you can also increase the ambiance with the string lights.
We have string lights available in two lengths, 16ft string with 10 led bulbs and 32ft string with 20 led bulbs. Both the bulbs and strings have IP65 rating and best for both indoor and outdoor use.

Delivery available all across PAKISTAN. In case of any queries contact us directly at 03439227883.