Use of mirrors is a valid support to create  an exciting visual experience for customers in clothing brands outlet. Famous clothing brand Sapphire needed a lighting solution for the mirrors used at their new opening outlet in Giga mall at Islamabad.
We have suggested silicon profile which  bent freely, soft, super touch, emits light evently without glare, hight flexibility-DIY,easy to cut. These characteristics make it perfect to fit anywhere based on  functional and aesthetic needs.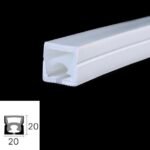 Led strip suggested was 220V strip as there was no space for driver to place.

We did the experiment and client liked the idea. Silicon profile used has the following details;
Tube dimensions: 20*20mm
IP rating: IP65
Pcb dimension: 5/10mm
Wattage: 10-14W per meter
Color: White

Led strip light details are below;
Wattage: 10w/m
Voltage: 220V (no transformer required)
Color temperature: warm white/natural white/cool white
length: 5m
IP rating: IP20
Cuttable: 10cm (12 leds) can be cut
Flexible and easy installation

Newon is an online lighting store in PAKISTAN, which not only provide quality lighting products with an unparalleled level of quality. We makes it easy for contractors, designers and wholesalers to realize their visions and help to provide solution which produces aesthetically beautiful effects and technical excellence.
You can contact us directly at WhatsApp 03439227883 or email us at info@newon.pk.