Led suspended linear light fixtures are popular lightings. Seamless linear light with different corner parts can let according to your design combination of different types. Many different types like Rectangle, Square, Round and Hexagon etc can be made as per the design. The rectangular shape is the more common shape use in offices.

Recently we have installed linear rectangular suspended lights at a corporate office-Ikonic Solution located at Islamabad.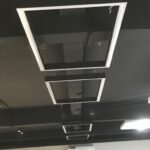 First client provided us the information about type and size of the light needed. We confirmed it by drawing the exact size picture. Then other details like CCT, body-color and suspension type etc are confirmed. After all the confirmation lights has been assembled and after testing installed at the site by our team.

Newon is an online lighting store in PAKISTAN, which not only provide quality lighting products with an unparalleled level of quality. We makes it easy for contractors, designers and wholesalers to realize their visions and help to provide solution which produces aesthetically beautiful effects and technical excellence.
You can contact us directly at WhatsApp 03439227883 or email us at info@newon.pk.