The lighting up of streets by electricity has brought a sense of security  to our cities, towns and villages for over 100 years. However, due to rising electricity  demand from the fast many years, power facilities are no longer able to meet the requirements. As a result, renewable  energy is strongly encouraged. Keeping up with current discoveries  solar lighting is one of the best solution to meet the demands. Not only it decreases power costs but also greenhouse gas emissions significantly.
Solar street lights most common models and it's prices in Pakistan:
The solar street light consists of LED light source, solar panels, storage battery and a solar charge controller. The solar panel converts the solar energy into electrical energy which then stores in battery. is made of monocrystalline silicon or polycrystalline silicon. Controller has the function of overcharge protection, over discharge protection, trickle charge protection, reverse-connection protection, undervoltage protection, light control and time control.
There are many different kind of solar street lights available in the market. The minimum price of solar street lights ranges from 6500-100,000. Here we will discussed about the most common street lights used in Pakistan.
(1) All-in-one Solar street light-AIO9 (Economical model):
All in one solar street light refers to the new generation solar led street light that integrated solar panel, battery and light source  into one unit. AIO9 is the economical model available in Pakistani market.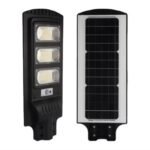 It comes in hard plastic body with poly solar panel of  15W and lithium battery of 15,000mah in 3.2V. Its backup time is 7-8 hours. We recommend it for domestic use where not very high brightness and backup required. Every shop deal it in different price, starting from 6500 to 9000pkr . You can directly order AIO9 from us at a discounted price. Delivery available all across Pakistan.
(2) All-in-one solar street light (CX-YTH):
CX-YTH is another economical solar street light with  with integrated  Lithium battery, solar panel and charger built into the luminaire. It has a
polycrystalline solar panel of 6V, 15W and a battery of 20,000mah in 3.2V. It gives a backup of  7-8 hours. It is best for domestic use. At newon it's price is 8,500.
(3) 
All-in-one solar street light Aluminium body (AIO-30):
AIO-30 comes in aluminium body with better backup and brightness.  It's best for housing  societies,  pathways and  parking lots  etc.  Specifications are given  below:
Solar Panel:poly 10V 28W
Battery: LiGePO4 6.4V 28Ah,
Number of LED: bridgelux 5730 324 pcs,
Charging time:5H,
Discharging Time:10-12H,
Lamp Material: Aluminium +PC,
Working Mode:Remote Control+Light C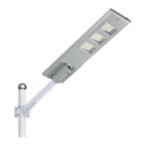 It's price range from 30,000-40,000 in local market. You can find it at best discounted price from Newon. Delivery available all across Pakistan.
(4) 
All-in-one solar street light-Tritan: 
TRITAN solar led street light is good for 4~8 meters poles with a good lighting performance.It adopts 80W monoctytallione solar panel and high efficiency programmable MPPT solar charge controller. Microwave sensor / PIR sensor is adopted to save more energy. It adopts aluminum die casting housing with IK10 performance.  It is highly  recommended for commercial use. TRITAN solar-led street lights adopt quality components with the most reliable and high performance. Using more quantity of SMD3030 in order to offer an ultra-high luminous output which is up to 150lm/watt. Its price is  72,000  at  Newon.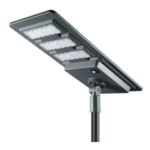 (5) Solar post top led light-SPL30: 
SPL30 is all-in-one solar post top led light with built-in solar panel and battery. It's best for domestic use and parks etc.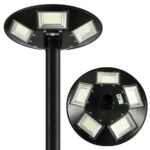 It gives backup from 7-8 hours. Its price is 14,500 at Newon. For more details you can visit our website.
(6) All-in-two solar street lights (SSL-50): 
From All-in-two solar street light means a solar street light which comes into two units. It has built-in battery  within the luminaires but a separate solar panel.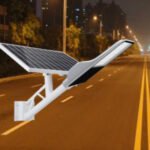 SSL-50 has two models available. It's price ranges from 17,000 to 30,000. You can find all the details at our website.
(7) All-in-two solar street light-Heliox: 
HELIOX series is the pioneer model of high power all in two solar led street light. It is an integrated solar street Light combined ultra brightness Philips LED source, intelligent programable MPPT controller and lifePO4 battery pack, all these components are integrated inside of the light fixture, Solar light head are connected to solar panel by universal MC4 plugs.
The big capacity LifePO4 battery pack is adopted, and it could work continuously with high power because the solar panel is separated from the light head,  then the customer can choose a suitable power of solar panel according to their local solar radiation to ensure enough power can be generated daily to meet the power consumption of light.  for example, for the
same 50W light, the solar panel used in Saudi will be 80W only, while it should be 120W or 150W in Europe.
The lighting program can be modified by the remote easily so that more energy could be saved so the lifetime of the battery will be extended greatly with less depth of discharge. It is CB, IECEE approved. It is best for commercial use. The price ranges from 55,000-80,000.
(8) Solar flood light (SFL30): 
SFL30 is an economical solar flood light model available at Newon. It has a separate solar panel of 35W and a built-in battery of 30,000mah in 3.2V. It
gives backup from 9-10 hours. It is best used for domestic and security purposes. It's price is 18,500.
(9) Solar flood light- Sirius:
SIRIUS solar flood light is brand new and premium quality. This solar led flood light is combination of the latest in advanced battery, solar panel and led technology newly developed in 2021. It is superior to all other models on market. SIRIUS is specifically developed for clients who have high demands in all details of the product, expectations.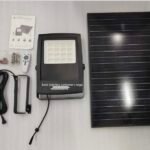 Unlike most solar lighting that will not operate when the solar panel is exposed to sunlight, we have installed a custom program that allows you to use the remote to turn on the floodlight freely regardless of external light conditions. It's price is 30,000.
(10) All-in-three solar street light: 
All-in-three solar street light has separate battery and photovoltaic panel generally mounted on the lighting structure. This street light is an ideal lighting system for roads, residential colonies, rural electrification. It solar panel and battery can be
customised as per the requirements. The one we are offering has the following specifications.
Battery:LiFePO4 12.6V 24AH;
Solar Panel:18V 50W Mono-crystalline;
Chrarge time:6 hrs;
Working time:12hrs
With the above specifications it's price is 47,000. It can customised as per the demand.
This list will be updated from time to time. In case of any queries, visit our website; Newon or contact us directly at +923439227883.