The street  lighting architecture is an essential part of an environment's aesthetics. Creating an effective streetscape involves selecting products that not only blend with the architecture, but also suit their surroundings. Effective outdoor street lighting needs designs that are not just an optimum mix of performance and aesthetics, but also sensitive to the growing environmental and energy demands. As part of such an environment, the luminaires' appeal in the daytime is just as important as their performance at night. Wider roads like highways, main and auxiliary roads require poles and historic areas, gardens, city centres and pathways use more pedestrian-scale products to create an inviting environment. Incorporating ornamental luminaires into a streetscape can create an ambiance that pairs well with the appeal of the surrounding structures. Though ornamental poles and luminaires invoke an early era through their appearance, they have evolved with state-of-the-art LED technology. Designer LED outdoor luminaires can provide the required surface illumination using less energy, with a better uniformity. The LED technology is improving rapidly in terms of luminous efficacy, colour quality, optical design, thermal management and cost, and when combined with aesthetic product design, it delivers a safe, sustainable and wholesome lighting experience.
What we offer:
Newon Electric's outdoor street  lighting products combine design with performance to give a signature daytime appearance while providing effective nighttime illumination. We offer lighting inspired by modern eras as a design element in public spaces, while providing the illumi- nation needed to create a safe and secure environment after dusk. A suitable combination of our luminaires and poles and bollards promotes uniformity and visual comfort while minimising light wastage, and comes with ease of installation and maintenance. Newon's LED luminaires, poles and led bollards  suited for street lighting, area lighting, pathway lighting, and other architectural applications in all types of settings, turning the outdoor environment from mundane to majestic.
Listra:
Rectangular section poles with inbuilt LED lighting adds sleek contemporary aura to streets along with efficient illumination.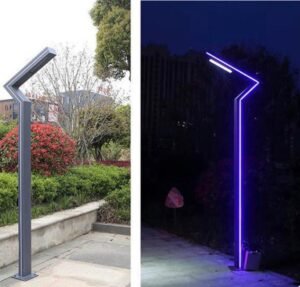 Led light pole listra is a contemporary and smart lighting pole especially designed for outdoor lighting. This is an energy-efficient Led light pole made of angles aluminum profile.
Listra Led light pole only requires 30W. This lighting pole produces 3000K warm white light.Led light pole lights are made of solid material, i.e Aluminum and PMMA. There is a special strip fixed at both sides of this led light pole. The elegant body of this pole is perfect for LEDs.
Listra led pole lights are ideal for installing at outdoor areas, i.e., gardens, parks, landscapes, porches, etc. In stunning grey color, this lighting pole comes in 3m height. Led light pole garden is a perfect pick to create a mesmerizing view of your home garden to enjoy evenings with dear ones.
Listra 30W LED Light Pole is a stylish and modern lighting pole designed for outdoor lighting. Made of angled aluminium profile. There is a high efficiency LED light source on it. Special strip light is installed at both sides of the pole. It has a long service life.
Specifications:
•Height: 3M
•Material:Aluminum+PMMA
•Lamp Body Size: 130*85*2.0mm
•Led module: 30W,3000K with both side led strips •Voltage:85-265v
•Color: grey
•IP Rate:IP65
•Including the anchor bolt
Plol:
Sleek design that blends equally good with contemporary and traditional post top lights.
This outdoor post lamp is great for both security and decorative post top lighting for commercial applications such as parking lots or large walkways or parks. Designed to look like the classic high output metal halide lights, this powerful LED technology is designed for outdoor use as an efficient, yet inexpensive solution for your outdoor lighting needs.
Item Weight: 
5.5 Kilograms
Item Dimensions LxWxH: 405x405x485mm
Input Voltage: 100-300VAC
IP rating: 65
Lumens/Watt: 130-140 LM/W
PF>0.9

Recta:
Recta
 is a Modern rectangular shaped LED Landscape Bollard Light in aluminium body. Lit up your home exterior with a modern style, consider this low-voltage energy-efficient LED landscape bollard light.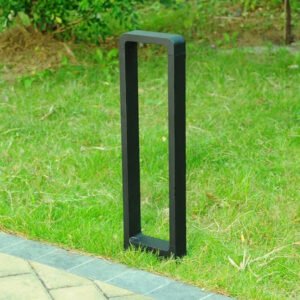 You'll enjoy the glow and futuristic design of this low-voltage energy-efficient LED landscape bollard light. It's a stylish way to illuminate your home exterior.
Low-voltage energy-efficient LED landscape bollard light.
Specifications:
Height: 2ft
Material: Aluminium
Wattage: 7W
Voltage: 220-240VAC
IP Rating: IP65
Lnda:
Lnda
 is a sleek designed aluminium  led bollard light having  in-built led covered in polycarbonate cover.
Introduce a warm ambience to your outdoor areas with this charming halo-shaped LED bollard. It brings a playful charm to your path and driveway. These striking fixtures also look fantastic in modern gardens and create a desirable, atmospheric glow at night and on dark evenings.
Specifications:  
Input Voltage :100-240V 
No. of LED: 30 PCS 
Type of LED: 2835 SMD LED
Total Wattage: 7W
CRI:>80
Brand of LED Chip:Osram
Color Temp :3000K
Product Dimension: 234x176x800mm
Material : Die-casting ,Aluminium,PC
IP Rating:IP54
Flying saucer:
This ufo shaped solar led bollard has in-built light source, solar panel and battery.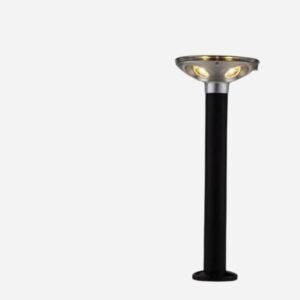 Flying saucer is manufactured using high-quality aluminum making it ideal for installing in outdoor areas, i.e., gardens, parks, pathways, and landscapes. It has integrated solar panel and internally incorporated battery in a precise design, so it didn't need any wiring or electrical connection to operate. It can get fixed anywhere effortlessly. It's charges from sunlight at daylight and brighten up at dark automatically providing safety and  additional visibility for pedestrians. It is environment friendly, with no negative impact on the environment.
Specifications:  
Body: Aluminium  
Height: 2 feet
Wattage: 8watt
Battery: 3.2V 5000mAh
Solar panel: 4.8W 5V
Hepta: 
Hepta is a heavy duty led solar bollard in aluminium body having built-in led light source, solar panel and battery.
Specifications:
Power: 4W 
Solar panel: Mono 5V/4W 
Battery: Lithium battery 3.7V 4000mah 
Light body: Aluminium 
Height: 800mm 
IP grade: 65 
Color temp: 3000-4000K
In case of any queries, you can write us at info@newon.pk or contact us directly at whatsapp 03439227883